Home » Articles posted by Charis Turner
Excavation is the process of using some implements such as claws, hands, or manual tools to remove material from a solid surface. Level Ground Excavation includes digging, trenching, wall shafts, and tunneling.
Before excavation work starts, it is important to plan the project. Make sure to use a trench and pipe plan and mark any buried services.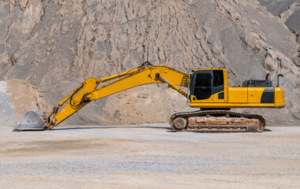 Trench excavation is one of the most hazardous construction activities. With each cubic yard of soil weighing as much as a car, an unprotected trench can easily collapse and crush a worker. As such, it is no surprise that excavation-related hazards are a leading cause of fatal construction accidents. This is why proper planning and safety precautions are crucial to ensure a safe working environment.
Before starting a trench excavation, the site should be inspected to identify any potential hazards or sources of pressure that could impact the stability of the soil. Also, check for any buried services, such as water or gas lines, and make sure that they are de-energized as needed. In addition, the competent person should conduct atmospheric testing in any excavation that is deeper than 4 feet. This is because the oxygen levels may be depleted, and a hazardous atmosphere can develop.
Depending on the type of soil, an excavation may require protective systems such as benching, sloping, or shielding to prevent cave-ins. A competent person must remove workers from the trench as soon as they see evidence of a dangerous situation that could lead to a collapse. This includes a hazardous atmosphere, equipment problems, or protective system issues.
While the risks of trenching are significant, they can be minimized by following the safety requirements outlined in the health and safety legislation of your jurisdiction. The competent person should provide a detailed plan of all work in advance, and a worker above ground should be available to warn workers below ground of dangers. In addition, a safe means of entry and exit should be provided to protect workers from falling objects.
Another risk of trench excavation is the possibility of vehicles or equipment colliding with the walls of the trench. This can be avoided by using a spotter or flagger to guide vehicles. In addition, workers should wear high-visibility clothing when working near vehicles on a job site. Also, they should keep equipment, supplies, and excavated soil away from the edge of a trench to avoid being crushed by falling debris or soil.
A pit excavation is a type of exploratory digging done before constructing a building. This method of excavation is a crucial step in the construction process, as it will help determine whether the soil can support the structure and if there are any other issues with the site. This test can save a lot of money in the long run, especially if it prevents major problems from occurring later on.
To conduct this test, an excavation team digs a small pit a few feet below the place where they plan to start searching. The team will also take samples of the soil to evaluate its rock ratio, softness, and contamination. If the soil is too sandy or rocky, it will not be able to hold the building's foundation.
This pit excavation can be done either by hand or using a mechanical digger. It is important to note that any pits that are deeper than 1.2 meters must have structural measures put in place to prevent them from collapsing on the people working in them. The excavation must also be carried out on the correct surface, which will not interfere with underground structures such as water or gas pipelines.
In addition to pits, a trench is an area of continuous resorption on the bone surface. Bone slices from trabecular bone were exposed to OCs in vitro, and the actin configuration of the resulting excavations was analyzed through confocal fluorescence microscopy (upper a). A trench was defined as an area showing a broad crescent of actin polarized at the front edge of the elongating excavation, similar to the pit pattern seen in vitro.
A finite element model was established to understand the effects of foundation pit excavation and precipitation. The results show that the excavation of a pit at different depths causes different horizontal and vertical displacements in adjacent soil layers. The model also analyzed the internal force variation law of frame shear structures caused by foundation pit excavation and precipitation.
In excavation, the earth is carefully removed to form a hole in the ground. This is done using hand tools or, on larger projects, heavy machinery like excavators and bulldozers. Once the area is cleared, archaeologists and other researchers can examine it to see if any objects have been buried there. If they find anything, it is preserved and cataloged for future study. In many cases, this helps to shed light on a culture or history that may have been long forgotten.
The process of excavation is complicated, but it's vital to protect workers and the surrounding environment. Before construction begins, the site must be surveyed, and a detailed excavation plan is developed. This includes the methods and equipment to be used, the sequence of work, and how the site will be protected from environmental hazards. Detailed excavation plans are also necessary for obtaining permits and approvals.
There are several different types of excavation, including trench, cut and fill rock and basement. Each type has its unique challenges and requires a specific set of skills. For example, rock excavation uses specialized equipment to remove large boulders and other hard surfaces. Muck excavation involves the removal of excessively wet soil, which cannot support structural loads. Cutting and filling excavation is a method that strips off wide layers of topsoil and rocks and may include grading the land.
Trench excavation is a type of excavation in which the length of the trench exceeds its depth. This is often used to bury pipes, install sewer systems, or lay foundations. Shoring is a technique that supports the walls of the trench to prevent them from collapsing, which can cause injuries and death to employees. It is important to use shoring for trenches more than 1.2 meters deep.
Basement excavation is a type of excavation that creates a building below ground level. It is typically used in residential buildings. This method is more complex than other types of excavation because it requires extensive footings and underground tunnels. Another specialized form of excavation is dredging, which involves the removal of sediments and debris from underwater.
Excavation is a process that enables us to build the foundations for buildings and other structures. It is important to do this accurately and safely. Using heavy equipment and skilled workers, excavation is a complex task that requires careful planning and execution.
There are two main types of trial excavation in professional archaeology, both commonly associated with development-led excavations: the test pit or trench and the watching brief. The purpose of these trials is to determine the nature and extent of archaeological potential in a site before extensive excavation work is undertaken. The results of these trials can be used to help identify a strategy for excavating a site. They can save time and money by eliminating excavations that would have little or no archaeological merit.
The first step in excavation is to prepare the site. This involves clearing away debris and ensuring that the excavation site is free of obstructions such as trees, pipes, or cables. It also includes assessing the soil and groundwater conditions to ensure they are suitable for excavation. Then, a detailed excavation plan is prepared, which consists of the specific methods and techniques to be used, the machinery and equipment required, and the sequence in which the work will be carried out. The plan should also include any measures to control dust, noise, and other environmental impacts.
Before excavation begins, it is important to identify the location of underground and overhead utilities. These must be avoided, as they could damage the excavation or cause a cave-in. It is also a good idea to have warning signs posted in the area. In addition, workers must be adequately trained to handle excavation hazards.
Once the excavation has been completed, workers backfill the dirt within the walls of the excavation site by hand or with equipment. This step is crucial because it ensures that the soil will be able to support the building. It is also a good opportunity to plant native plants or install soil erosion controls.
Once the excavation is complete, construction can begin on the structure itself. This will involve grading and laying the foundation. During this phase, workers will also install utilities such as water, sewer, and electrical lines.
J&R Construction brings buildings or other assets to a functional state. That includes design, financing, and building the support.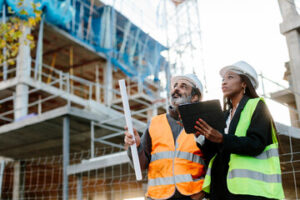 Procurement is the buying (or renting) materials needed to move a project forward. This step usually requires the most coordination, involving multiple vendors with varied delivery schedules.
Construction involves making and delivering structures in a form that can be used for their intended functional purpose. It is a broad field that encompasses any work in building anything from homes to infrastructure projects like roads, bridges, and tunnels. It also covers maintenance and repair work or expanding, upgrading, and improving existing assets.
Planning refers to the process of establishing goals and objectives for a project and developing a strategy for how those goals will be achieved. It is a crucial step that ensures everyone involved in the project understands their role and how they will contribute to the construction project's success. That includes identifying and communicating risks to stakeholders.
The type of construction project will impact nearly every aspect of its development, from design specifications to contractor prequalification and selection to building material needs and equipment. Because of these differences, it is common for architects, engineers, and construction companies to specialize in a particular type of project.
How a construction project is planned will often impact its final cost, timeframe, and overall quality. That is why it's important to plan well and include a contingency budget to cover any unexpected expenses or challenges that may arise.
For example, a large construction project may require a significant amount of earthwork to prepare the site for building, or it may need to comply with local land-use planning policies (like zoning ordinances and building codes) before starting. It can also require extensive surveying and data collection to anticipate engineering requirements, environmental impacts, and potential issues with existing utility lines.
Construction managers (CMs) are uniquely qualified through education and experience to help owners, architects, designers, general contractors, and other project stakeholders develop plans and schedules for construction that meet their expectations of scope, quality, cost, and delivery. CMs work with the project team to coordinate activities and facilitate communication, ensuring that all aspects of the construction project work together seamlessly and efficiently. They use management platforms to create workflows that ensure the project is delivered on time, within budget, and at or above the owner's expected level of performance.
Construction design involves the creation of plans for buildings, infrastructure, industrial facilities, and other structures that are then constructed. That is an important component of industrial culture as it allows society to create various environments to serve many different needs. The design process can be divided into three levels: technological requirements, design resources, and construction technology. Innovative design concepts must be tested for technical feasibility.
Designing is a highly complex process requiring the collaboration of a wide range of professionals. These include research establishments that study material properties and performance, code officials who adopt and enforce safety standards, designers who determine user needs and design a building to meet them, and builders who construct the physical structure. The design phase can also be time-consuming and costly, especially when the designers work under tight deadlines to complete their projects.
A key aspect of the design is the consideration of environmental factors such as air temperature, light and sound levels, humidity, odors, and power availability for machinery and tools. Modern building construction often focuses on achieving high energy efficiency and sustainability levels. That is accomplished by incorporating solar panels, wind turbines, and water recycling systems.
Construction is often a site-specific activity, and site visits are vital to the design stage. Visiting the site allows the designer to examine access roads, water, electrical, and other service utilities near the construction area. It also allows the observation of any interference with existing facilities that may affect the construction process.
Heavy civil construction refers to large-scale engineering projects often associated with infrastructure or public works. These include highways, bridges and tunnels, railways, airports, and water and sewerage systems. In some cases, these projects are designed by specialists in their field and then subcontracted to general contractors for construction.
Design-build is an approach to project delivery that combines the roles of architect and contractor into one part, often called the design-builder. It is an alternative to the traditional model of separate design and builder, and it can be subdivided into architect-led design-build (or ALBDB) and contractor-led design-build. ALBDB is a project delivery method in which the architect serves as owner advocate and steward, providing design strategy and construction expertise to a team of consultants, subcontractors, and materials suppliers.
Many different types of building materials are used in construction, each with unique properties and uses. The choice of materials can significantly impact the durability, energy efficiency, and overall aesthetic of a building project. Structural materials are used to create the basic structure of a building, including the foundation, frame, and walls. Roofing materials are used to cover and protect the roof of a building, and flooring materials are used to create a stable surface for walking and standing. Several building products, such as windows and doors, are used to develop specific features.
Wood is a common natural building material used in construction for centuries. It is a versatile, durable, and renewable resource that can be used for framing, wall sheathing, and roofing. Stone is another popular construction material used for various purposes, including wall cladding and flooring. Clay is a natural material that can be molded and baked into bricks and tiles, commonly used in building walls, floors, and roofing. Straw is a raw material often used for insulation in eco-friendly buildings.
Other common construction materials include concrete, steel, masonry, and glass. Concrete is a strong and durable material used to build foundations, walls, and other structural components. Metal is a low-maintenance and versatile material used in building construction, including framing, wall sheathing, roof trusses, and flooring. Metal is also a good choice for roofing, as it is resistant to fire and heat and can withstand heavy loads. Several types of glass are used in construction, including clear and colored glass, fiberglass, and float glass. Plastics are also used in construction, and several different types of plastics, including vinyl-coated polyester, polyethylene, and polypropylene, are used for various applications.
The execution phase of a project involves carrying out the plans for the project. That includes things like setting deadlines, hiring workers, and establishing budgets. It also provides monitoring and controlling activities to ensure the project stays on track. Sometimes, there are hiccups, but that is to be expected in any project. It is important to keep communication channels open between the project manager and the team members involved in executing the plan.
Project management has a specific term for this process: "project execution." It describes all the activities necessary to achieve the project's goals and objectives. It is usually done by a project manager who oversees and guides the entire project team responsible for the actual work performed. During this stage, the project manager must ensure the job is completed on time and within budget. That requires complex planning techniques like critical path methods and risk analysis.
Construction can be a complex process, especially when it involves multiple stakeholders. For example, a construction project may include architects, engineers, construction managers, and other personnel from different organizations. That means the project manager must develop a strong relationship with all these people to succeed. That can be difficult, especially if the project has significant delays or issues. However, the project manager can minimize these problems by ensuring that all stakeholders are updated on progress and that everyone is working together.
There are several types of construction projects, including civil and heavy industrial. Civil construction refers to large-scale engineering projects typically associated with infrastructure or public works. These include roads, bridges and tunnels, water and sewage systems, airports, railways, and other transport networks. Heavy industrial construction, conversely, refers to erecting industrial plants and facilities such as oil and gas, refineries, power stations, steel mills, breweries, distilleries, and factories.
Construction and building are often used interchangeably but are two different processes. Construction is the larger umbrella term that encompasses all of these other processes. Building is a specific construction subset involving assembling and erecting structures, such as homes.